Dr. Douglas Rivero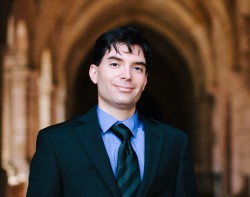 Hello SPC Students!

Please do not hesitate to visit me during office hours!

I am here to help you grow personally and academically. I truly enjoy teaching SLS and Political Science courses. My overall goal in these courses is to help students develop their critical thinking, writing and communication skills while helping them understand the importance and benefit of civic engagement. I also enjoy helping students locate internships and career opportunities.

As Chair of the SBS Department here at Seminole & eCampus, my duties include academic and administrative functions, overseeing adjunct teaching, and promoting key SBS projects. These include Civic Engagement and Model United Nations (MUN). In fact, the SPC MUN team has won many national and international awards and it is a pleasure to work with dedicated students and faculty on this great program.

In terms of my academic background, my research is focused on US foreign policy, specifically the Cold War and the policies towards Latin America and the Middle East.

Experience:

Educational Background:
Grad Certificate- Community College Leadership, UCF (Dec 2019)
PhD-Political Science, FIU (May 2009)
MA- Political Science, FIU (Dec 2004)
BA- Environmental Studies, FIU (Dec 2001)

Career Background:
5 Years as Political Science Department Chair at Bethune-Cookman University (2009-2015)
2 Years as a Senior Academic Advisor at Florida International University (2007-2009)
4 Years as a Graduate Teaching Assistant at Florida International University (2003-2007)
2 Years as an AmeriCorps/Florida State Parks Team Leader (2000-2002)

Honor Societies:

Pi Sigma Alpha- The National Political Science Honor Society
Sigma Iota Rho- Honor Society for International Studies

Associations:

Florida Political Science Association
Southern Political Science Association
International Studies Association
ISA- Global South Caucus
ACLU of Pinellas County

Hobbies:

Beach, nature, parks, museums, traveling and kickboxing. Love Star Wars, X-Men and V for Vendetta, especially the politics involved. I enjoy the majority of these hobbies with my amazing wife, Vanessa, and our furry daughter (miniature pinscher named Baby)!