Mrs. Theresa Castillo, MSN, RN, CNL, RN-C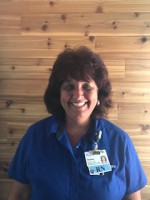 I have been a Registered Nurse since 1994. I graduated from St. Petersburg Junior College. I worked as a CNA and as an LPN prior to receiving my RN license. I have worked for BayCare since January of 1994. I have worn many different hats throughout my career. I feel most comfortable working in the adult cardiac world. I started my first clinical teaching position with USF in 2008. When a full-time position opened in January of 2010 with the BayCare Nursing Grant Program/ SPC, I applied right away. I began teaching in the ADN program in level one nursing. I have since worked in level two and three. I'm currently working full-time for the BayCare /SPC ADN program.
I'm also an adjunct instructor teaching in the RN to BSN SPC nursing program. I love the nursing profession and I enjoy teaching and sharing the knowledge I have gained over the years. I'm married and I have three beautiful children. I love to travel, EAT, and spend time with family and friends any chance I get.

As your instructor, I will:

- Log into this course throughout the semester, every work day from the first day of the course through the last day of the course.

- Provide you with updates via Course Mail or Announcements as needed

- Respond to all course mail within 24 hours Monday through Friday and within 48 hours during the weekend.

Note! Although I will try to check the course on the weekend, this is not a guarantee.

- Notify you in advance if I will be out of contact for more than two days.

- Have your assignments and exams graded within 7 business days of the due date.

- Calculate and enter your grade for this course before the submission deadline so you can view your final grade the next day.

- Make myself available to you via MyCourses, phone, e-mail, or in-person to help you with this course. My goal is for you to be successful: I am here to help!!