Advisors are listed under the campus locations where they advise, different office locations are noted.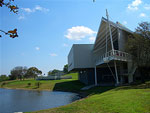 Tarpon Springs
600 Klosterman Rd., Tarpon Springs, FL 34683

This campus offers associate, bachelor's and certificate programs. Home to the Leepa-Rattner Museum of Art, Fine Arts Education Center and M.M. Bennett Library complex, SPC's Tarpon Springs Campus reflects the community's Greek heritage through building design and the Greek lettering on some of its structures. An amphitheater offers a natural, Greek-style setting for cultural events. The Tarpon Springs Campus opened in 1975.
*
office located on different campus